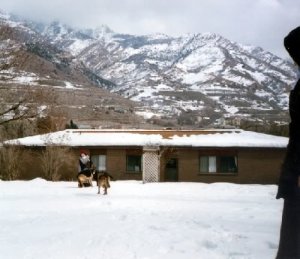 There is a nice write-up in a local Catholic newspaper on the Carmel of the Immaculate Heart of Mary in Salt Lake City, Utah. In the article, they talk to Mother Margaret Marie Miller who in October was named the new Mother Superior. Mother was one of the five founders who came from Alhambra, California, in 1952 to found a Carmelite monastery in the then-sparsely populated Catholic diocese.
"To be a Carmelite is a real vocation," said Mother Margaret Marie. "The Lord gives it [the vocation] to you, but you have to be open and you have to be open to whatever he wants from you."
Mother was inspired by St. Therese of Lisieux and like her wanted to save souls. She considered becoming a missionary but concluded, like St. Therese, that in the cloister she could reach everybody. "That was the thing that struck me. I didn't even know what the life was going to be like, I just knew that I was going to pray for the whole world. You pray for the whole mystical body and that is what sounded really great."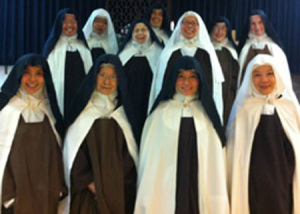 I am reminded of a priest whose father wanted him to become a doctor. He said, "Dad, as a doctor, my patients are going to die. As a priest, I can lead them to eternal life." Carmelites are praying people unto eternal life.
She has some practical advice on prayer. "Prayer is very simple; it's not complicated. Prayer is a loving exchange with someone that loves you. God is all-powerful; His will is Him, so it's pretty simple: Open your mind and He is with you all the time. It doesn't have to be complicated; it's simple."
You can support the eleven Carmelites in Utah by purchasing their candy and holy cards and the like. You can also get a first-hand glimpse into their lives by watching their very appealing YouTube video.