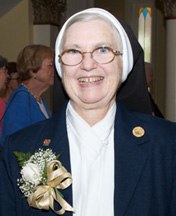 This is a story of a Sister of Charity who donned the veil again.
She professed her first vows in 1964, donned the habit and tried throughout the years to unite herself to Jesus Christ on the Cross.
Then came the late 60's and 70's when so much was questioned: the daily schedules, the authority structures, common prayer and in particular the wearing of the habit. In her own words, this is how the habit was jettisoned.
I would like to say that it was after much prayer that I decided to go into secular clothes. However, I always sensed that my decision was nothing short of caving in to peer pressure and the times….Once I did I responded as any healthy woman would. I loved to dress up and I loved to dress down. I even went so far as to have my ears pierced and my hair dyed. I embraced it all.
While on retreat in the summer of 1995, she was led to a greater understanding of the gift of the Eucharist and a desire to intensify the union of her will with the will of God.  A wise sister wrote to her and said, "Just don't get in His way."
Then in the Fall of 1995, Pope John Paul II came to town and sister was never the same again. She was able to shake his hand and felt holiness pass through her body and into her soul. When she left the Cathedral, she told a friend that she was going to return to the wearing of the veil. "The words were not mine. I knew in an instant that this was what God was asking me to do."
She privately donned the veil on Christmas, her birthday, and officially did so on the feast of her foundress, St. Elizabeth Ann Seton, January 4th. As she looked at her veiled image in the mirror, she was shocked. She saw the image of herself as she had looked 23 years earlier.
Being greeted on the street was something I had totally forgotten. Moreover, the witness value has overwhelmed me: I know I cause others to think about God, if only for a few seconds, and I realize afresh the public dimension of the consecrated life and the hunger there is for it in this world.
When she first put on the veil she was frightened, terrified at what God was going to ask of her. Her sister told her that she would never really know God's plan until she really trusted Him. So once again, she turned her life over to Him.
I am no longer afraid. In fact, I feel fearless….He sent His spirit into this consecrated heart and all I can continue to say is Fiat.
______________________________________________________________
This story appeared in the November 1997 issue of Religious Life. It originally appeared in the summer 1996 issue of Come Follow Me: A Newsletter of Spirituality for Sister and Brother Religious. In 2011, Sister celebrated her Golden Jubilee as a Sister of Charity. God bless her for her faithfulness and her pro-life work.