In West Springfield, Massachusetts, on a busy street, up on a hill, is the Dominican Monastery of the Mother of God. Their presence there silently proclaims to the passers-by their faith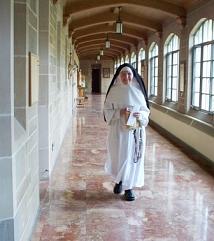 in God and their desire to belong wholly to Him. Their foundress, Mother Mary Hyacinth of Jesus, entered the Dominican Sisters of the Perpetual Rosary in Union City, NJ, on September 8, 1908.  She was chosen by Bishop Thomas Mary O'Leary to be the foundress of their community: "Come, come to Springfield in the name of God and Mary. This will be our gift to Our Lady on the feast of her birth."
They eventually took on perpetual adoration of the Blessed Sacrament and went from Third Order sisters to Second Order nuns. Life in modern times is more complicated for everybody, cloistered nuns not excluded, but they have striven in recent times to strengthen the essentials of their enclosed life, striving for the one thing necessary – union with God.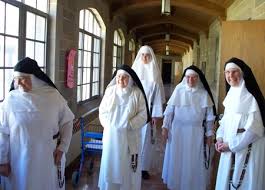 In 2008, reflecting more deeply upon their contemplative vocation after the nuns' Jubilee Year, they decided to take back their traditional veil, believing that each nun should strive to become a mini "house of prayer."  This was followed by the restoration of a simple grille in their parlors in 2011, as another reminder of their call to silence and withdrawal from the world.
Following the Rule of St. Augustine, they make solemn vows and follow Papal enclosure. The solemn chanting of the Divine Liturgy is at the heart of their day.  Their Eucharistic adoration and Rosaries flow out of this wellspring of grace, while study and lectio divina are a fruitful preparation for it.  They strive to make the Liturgy as beautiful as they can, all for the glory of God.
May Our Lady, who helped them to begin this work of love for God, allow it flourish through her special Motherly intercession.  Amen!