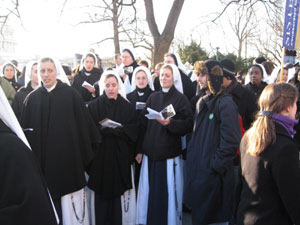 Next week marks the 38th anniversary of the notorious Roe v. Wade Supreme Court decision that created a constitutional "right" to abortion. Christians throughout the land are busily preparing for various pro-life events to mark the occasion. Of course the "granddaddy" of these events is the annual March for Life in Washington, DC.
Proclaiming the "Gospel of Life" in word and action is an integral part of being Catholic. Not surprisingly, then, consecrated men and women have been at the forefront of the pro-life movement. This includes everything from persevering prayer in the cloister to eduational ministries to prayerful witness at abortion clinics to helping women in challenging pregnancies. And so much more.
A shining example of this pro-life focus is the Sisters of Life. They were just founded in 1991 by John Cardinal O'Connor of New York as a contemplative/active community of women religious. As their name suggests, pro-life activity is an essential part of their charism. They even take a special fourth vow to "protect and enhance the sacredness of human life."
For the Sisters of Life's schedule for this coming week, click here.
In addition, the Catholic Key Blog of the Diocese of Kansas City-St. Joseph posted today a timely pro-life article by Bishop Robert W. Finn, who also currently serves as IRL president. It's entitled "March for Life: Culmination of Many Efforts to Support and Protect Human Life." Read it here.