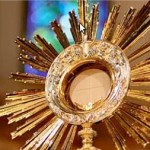 "In order to evangelize the world, we need experts in celebration, adoration, and contemplation of the Holy Eucharist" (Pope John Paul II).
"From Adoration to Evangelization" is the theme of a major International Conference on Eucharistic Adoration to take place June 20-24, 2011 in Rome.
Organized by the Missionaries of the Most Holy Eucharist, a new community founded by Bishop Dominique Rey of Frejus-Toulon, France in 2007, Adoratio 2011 brings together a wide range of international speakers, including six prominent Cardinals, among them Cardinals Francis Arinze and Raymond Burke.
"We must regain the ability to adore Christ in the Most Holy Eucharist if we are to bring the men and women of the twenty-first century to faith in Jesus Christ. This is one of the key themes of the pontificate of Pope Benedict XVI," Bishop Rey emphasized, "which is why we are taking this initiative."
This event has particular significance for vocations to the priesthood and the consecrated life. Cardinal Mauro Piacenza, prefect of the Congregation for Clergy, noted in a letter earlier this month to Bishop Rey that Eucharistic adoration is "an effective means toward promoting the sanctification of the clergy, reparation for sin, and vocations to the priesthood and the consecrated life."
"With courage, we must ask the Lord to send forth new laborers into the harvest," Cardinal Piacenza affirmed. He urged that "in every diocese there should be at least one church, chapel, or shrine set aside for perpetual adoration of the Eucharist, specifically for the intention of the promotion of new vocations and the sanctification of the clergy."
Cardinal Piacenza expressed his hope to conference organizers that bishops, priests, and religious would consider attending the Eucharistic adoration conference.  "A renewed sense of devotion to Christ in the Eucharist," he said, "can only enrich every aspect of the Church's life and mission in the world."