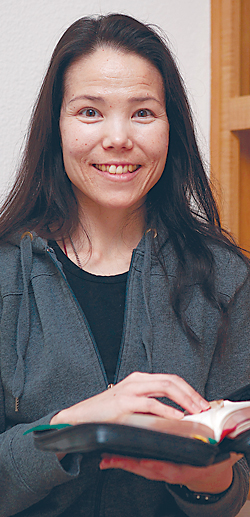 Last week, my friend Elizabeth Lam became a consecrated virgin in and for the Diocese of Oakland. Bishop Salvatore Cordileone was the presider for the rite of consecration, which was performed in the context of a Sunday Mass at the Cathedral of Christ the Light.
Elizabeth is not bound to a religious community, but rather lives in the world. Through her consecration, she has made a total gift of herself to the local Church under the leadership of her bishop. 
There are only about 200 consecrated virgins in the United States, but there is a revival of this ancient rite taking place. As Bishop Cordileone noted at the outset of  his homily, some of the most revered saints of Christian antiquity were consecrated virgins, like Sts. Cecilia, Lucy, Agnes, and Agatha.
For more information, check out the following links: