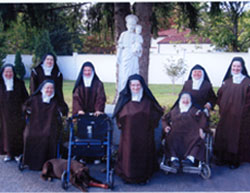 Today I visited the website of the Carmelite Nuns of the Ancient Observance, Monastery of St. Therese, in Coopersburg, PA, near Allentown. This Carmelite community is an affiliate of the Institute on Religious Life, but I hadn't read much about them. What a beautiful cloistered community! Click here for their horarium, or daily schedule.
What really struck me, however, was the online biography of the community's foundress, Mother Therese of Jesus, O. Carm. (1877-1939).
The occasion for writing the biography came when, during an expansion of the monastery's mausoleum, Mother Therese's remains were exhumed and were found to be incorrupt, despite the passage of 63 years!
The Coopersburg Carmelites follow strict papal enclosure. The essence of their daily life is living in the presence of God, in imitation of the Blessed Virgin Mary and the prophet Elijah. They pray especially for priests, religious, and for all missionaries, and they pray and do penance for the whole world.
The Coopersburg Carmelites maintain their own orchards, bake altar breads, and do other labors in cloister to maintain their monastery.