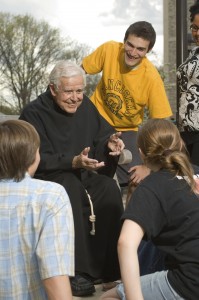 The Franciscan University of Steubenville has announced that its chancellor and past president Father Michael Scanlan, T.O.R. will be retiring on June 30, 2011. As most of our readers know, Fr. Mike–with the powerful assistance of the Holy Spirit–was the driving force behind the incredible renewal of Franciscan University, making it an internationally recognized center of  "dynamic orthodoxy" in recent decades.
As a graduate theology student at Franciscan University in the 1990s, I'm personally grateful for Fr. Mike's leadership and the friendship he showed me and so many other people who have stepped on the Steubenville campus.
While he deserves some well-deserved rest from his labor, I am sure he's especially gratified that the torch has been successfully passed to Fr. Terence Henry, T.O.R. and the rest of the current administration. Catholic families are still able to count on the university's fidelity to its Catholic–and Franciscan–principles.
For more, see this article, courtesy of Catholic News Agency.