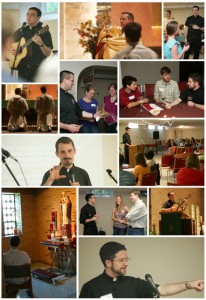 In the Fall 2010 issue of Jesuit Journeys, Jesuit Michael Rossmann describes his community's new "Hearts on Fire" retreats for young adults. During the summer months, a group of young Jesuit  priests and scholastics travel from city to city, opening the treasures of Ignatian spirituality to eager audiences.
Some excerpts from Rossmann's article:
"It was deeply exciting to share our spirituality. I did not completely recognize just how helpful the Spiritual Exercises and Ignatian spirituality were for people today until a retreatant expressed how she felt as if she were the only one in the room as we went through the ideas of consolation and desolation and Ignatius rules for discernment in that it was connecting with her on such a deep, personal level. . . .
"We targeted young adults in their 20s and 30s. Many expressed they had gone on retreats during high school and college but had not been to a retreat in a long time and had never encountered something like this.We shared the Spiritual Exercises and the spirituality of the Apostleship of Prayer, and people found it remarkably fresh and relevant.
"Really, we were simply messengers. We discussed Ignatian contemplation, led them through a Gospel scene, and then gave them time to practice on their own–an experience many found deeply valuable and something that they could integrate into their own prayer lives. While we expressed this through our own voices with particular stories and insights from our own experiences, for the most part, we simply shared with others the immensely rich gifts that lie at the heart of our Jesuit spirituality. . . .
"There were four or five of us Jesuits there each weekend to give talks, play music, and lead prayer. . . . Not only did we have a blast hitting the road, but we grew in community and in our own vocations. And people saw this. It was illuminating to read many evaluations that noted our evident camaraderie and how this contributed to a great retreat atmosphere."
Click here for a blog post by Fr. James Kubicki, S.J. of the Apostleship of Prayer on the "Hearts on Fire" retreats. And check out this vocation website for the Chicago-Detroit and Wisconsin provinces of the Jesuits.