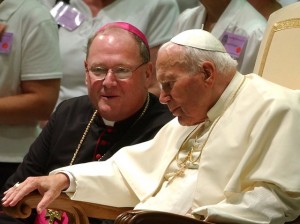 Some interesting vocation-related stories and articles I've come across this past week:
Archbishop Dolan on John Paul II priests (Catholic Education Resource Center) The Archbishop and former seminary rector reflects on how Blessed John Paul II inspired an entire generation of bishops, priests, and seminarians.
Sister finds calling for those in need at hospital (St. Petersburg Times) Franciscan sister discerns religious vocation following the 9/11 tragedy.
Baseball's religious followers (Albany Times Union) Talking baseball with three N.Y. Yankee fans who happen to be Sisters of St. Joseph of Carondelet.
Vocation to priesthood a life, not a job (Catholic Globe/CNS) Detroit-area priest shares his story, stressing that prayer is the "lifeblood" of priests.
Rally encourages students to listen to God (Catholic Sentinel) "We need people to create a culture of vocations so young people can at least think about it," says Jim O'Hanlon, who with his wife Terry helped to organize the event. "God will call them, but they need to be able to respond."
And closer to home, the Topeka Serra Club announced the winners of its vocation essay contest.