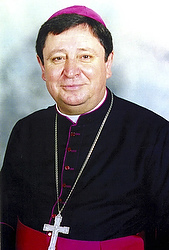 A recent Catholic News Service article entitled "Calming the waters: New Vatican official tries different approach" has been making its way through cyberspace. The article discusses the irenic approach of Archbishop João Bráz de Aviz, the new prefect of the Congregation for Institutes of Consecrated Life and Societies of Apostolic Life, which oversees religious life for the universal Church.
The Archbishop's commitment to "dialogue" and "fresh approaches" appeals to some religious superiors, who favor this style to that of his predecessor Cardinal Franc Rode, who was perceived as more of a hardliner.
I don't know what to make of all this yet. On the one hand, Archbishop Aviz' approach as it's been reported seems absolutely appropriate. However, at some point Archbishop Aviz will have to take up the same hard issues facing religious life (including the concerns that led to the apostolic visitation of U.S. women's communities) that Cardinal Rode faced.
Will he challenge religious communities to something greater? Will he still be received so favorably when he does so?
I pray that the answer to both questions is a resounding "yes."