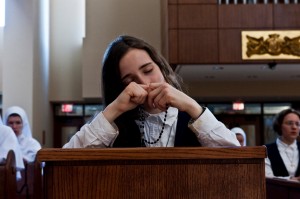 I never thought when my daughter Mary Kate entered a Dominican community last August that within a year she would be on Oprah and have her picture in The New York Times, but I guess stranger things have happened!
I especially like the photo of Sr. Mary Kate, which is how she has looked at prayer for many, many years. God has always blessed her with a deep desire and gift for contemplative prayer.
When Sr. Mary Kate was here for a home visit last month, she mentioned the interview and expressed doubt that they would publish any of the interview, as it didn't seem to be quite what they were looking for. They chose to publish a few comments on prayer, and particularly when it comes to dealing with distractions in prayer–something common to the experience of everyone who has sought to grow closer to the Lord.
For that reason, I thought it might be helpful to add the Catechism's treatment on distraction in paragraph no. 2729:
"The habitual difficulty in prayer is distraction. It can affect words and their meaning in vocal prayer; it can concern, more profoundly, him to whom we are praying, in vocal prayer (liturgical or personal), meditation, and contemplative prayer. To set about hunting down distractions would be to fall into their trap, when all that is necessary is to turn back to our heart: for a distraction reveals to us what we are attached to, and this humble awareness before the Lord should awaken our preferential love for him and lead us resolutely to offer him our heart to be purified. Therein lies the battle, the choice of which master to serve."