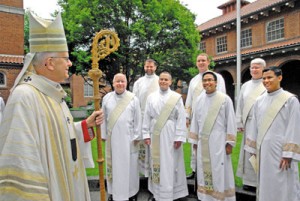 I thought I would end a busy week with this uplifting post from the Catholic Sentinel in Portland, Oregon. It's about what Archbishop John Vlazny of Portland called "The Magnificent Seven"–the seven men ordained for the archdiocese in 2009. This was their largest ordination class since the 1970s.
The article checks in on them, two years later.
All of the new priests seem to be thriving, despite the many personal and pastoral challenges, and happy in their vocation.
One of the priests, Fr. David Jaspers, has already performed more than 620 baptisms, which amounts to one every 28 hours. Not bad!
Another of the priests, Fr. Theodore Lange, beautifully summed up his call to ministry this way: "My joy comes from surrending to God's will and allowing the vocation to form my life."
"Magnificent" might be a bit much, but the "Seven" are good and faithful servants who are already making a difference in the Pacific Northwest. God bless them!