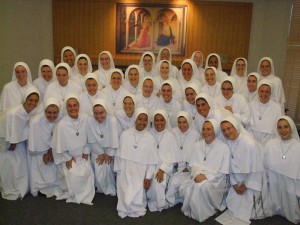 This has been a banner week for the Dominican Sisters of Mary, Mother of the Eucharist.
On Monday, eighteen new novices received their religious habit and a new name. Yesterday, four sisters professed their final vows. And for good measure, seven sisters will profess their first vows on Thursday.
Later this month, the community will welcome sixteen new aspirants into the fold.
Some of you might recognize the young sister at the lower right-hand corner of the photo as my daughter, Mary Kate Suprenant. As of Monday, she is a Dominican novice, and her name is now Sr. Evangeline. God be praised!