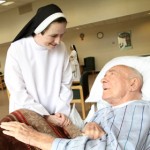 There was a wonderful story making the rounds last week concerning the work  of the Dominican Sisters of Hawthorne at the Rosary Hill Home, a facility in New York that provides palliative care to indigent cancer patients. 
The Hawthorne Dominicans were  founded at the turn of the last century by Rose Hawthorne, a daughter of New England novelist Nathaniel, author of The Scarlet Letter.
Mother Mary Alphonsa, as Rose Hawthorne was known, wanted to treat patients as family, "and put them up in our very best bedroom and give them comfort in what time they had left. In dressing their wounds, she was dressing the wounds of Our Lord," according to Superior General Mother Mary Francis.
Present-day sisters still provide direct care for the residents, without charge, and do not accept government funds or insurance reimbursements. They do not have a development office.
"It's a modern day miracle," Mother Mary Francis said. "Part of the whole charism is to trust in Divine Providence. We are not allowed by our constitutions to fundraise. Mother Alphonsa felt if she was doing God's work, God would provide."
The actual care has changed somewhat since the foundress's time, but the guiding spirit has not. Sisters work in small teams and are responsible for the total care of two or three patients. Visitors are welcome until 9 p.m. and retired sisters maintain an overnight vigil with residents who are near death.
The sisters live in a convent adjacent to the home and worship together four times a day in the Rosary Hill chapel. Daily Mass and prayers from the chapel are available in each room on a video feed. Sister Alma Marie said, "The residents can hear us pray. They feel our love for each other and for all of them. They may not know it, but it is the love of God that animates our lives."