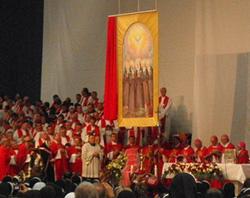 On Saturday, September 24th, the Church beatified five Bosnian nuns who were kidnapped and later killed during World War II. The beatification took place in Sarajevo, Bosnia, with upwards of 20,000 people in attendance. Cardinal Angelo Amato from the Vatican Congregation for the Causes of Saints presided at the celebration.
The new blesseds–Jula Ivanisevic, Berchmana Leidenix, Krizina Bojanc, Antonija Fabjan and Bernadeta Banja–were all members of the Daughters of Divine Charity. They served the poor in the Serbian village of Pale. Serb soldiers burned their convent in late 1941.
The nuns were then marched 40 miles in freezing conditions to military barracks near the east Bosnian town of Gorazde. The soldiers beat and tried to rape them. The nuns jumped out of the second-floor windows, and soldiers later stabbed to death those still alive.
"The news of the deaths of the five sisters spread quickly in Sarajevo. Even though it was a time of war, the people remembered them and prayed to the martyrs of Drina, as they were called, for their intercession," Sr. Maria Ozana Krajacic recalled in a recent edition of the L'Osservatore Romano.
The holy sisters' story is recounted in the book, The Drina Martyrs, written by Fr. Anto Bakovic.