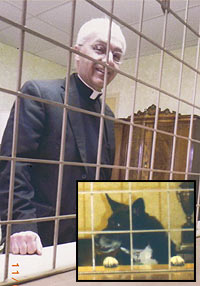 The Poor Clares of Rockford, Illinois have had a spiritual bond with the Diocese of Bismarck, North Dakota, that goes back a few years. That bond increased dramatically October 19th, when their former chaplain, Msgr. David D. Kagan, Vicar General of the Diocese of Rockford, was named the Bishop-elect of Bismarck.
Several years ago, the vocation director for Bismarck asked the sisters to pray for all of the diocese's seminarians. The Poor Clares had been faithful to that commitment ever since, and now their chaplain in Rockford will become the new shepherd in Bismarck!
The sisters were delighted to spend an hour with Bishop-elect Kagan in their visiting parlor recently, learning all about his new diocese.
A fellow "worker" at the chancery office, Border collie Dash (whose duty it was to keep the geese off the chancery grounds), will accompany the Bishop-elect to North Dakota. "At least he will enjoy the snow," comments Msgr. Kagan.
There is a wonderful presence of religious men and women in the Bismarck diocese. However, since the diocese does not have a cloistered contemplative community, the Poor Clares are spiritually adopting the Diocese of Bismarck along with its new bishop!
The desire of St. Clare–that her sisters support the Mystical Body–is alive and well.