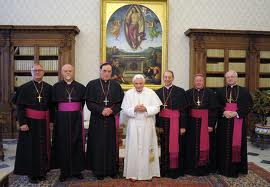 Religious freedom, the "new evangelization," and the push for vocations emerged as key issues during the first round of U.S. bishops' "ad limina" visits to the Vatican.
Eighteen bishops from New England met with Pope Benedict XVI and top Vatican officials earlier this month. It was the first of 15 U.S. groups making ad limina visits over the next several months, and the bishops said some particular questions and challenges surfaced quickly in the talks.
While the Church leaders addressed many issues, a popular topic was vocations, especially to the priesthood, according to a Catholic News Service report. Archbishop Henry J. Mansell of Hartford, Connecticut said it was nice to be able to share good news with the pope.
"Many of us here can say we're very much thrilled by the large increase in vocations to the priesthood. In my own archdiocese, eight years ago we had six seminarians, now we have 47 and more on the waiting list," the archbishop said."Stories like that are true and real and offer great hope now and for the future."
The archbishop said that in the meetings: "The Holy Father is very encouraging. He sees the large picture and he's very conscious of the work that goes on."
According to Servant of God John A. Hardon, an ad limina visit  is a pilgrimage to the tomb of the Apostles Sts. Peter and Paul, canonically required of every bishop every three to ten years. On this visit he renders an account of the complete condition of his diocese to the Pope.