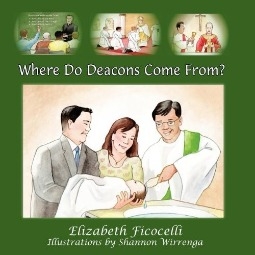 Last week the Kathryn Jean Lopez reviewed a new children's book by author Elizabeth Ficocelli entitled Where Do Deacons Come From? This is the latest of a series by Ficocelli (other titles so far include Where Do Priests Come From?; Where Do Sisters Come From?) to introduce vocations to children.
Ficocelli comments on the reason for her book:
"Deacon Greg Kandra recently blogged that his friend, Deacon William Ditewig, had made the following statement: 'The diaconate will only become fully accepted as a vocation when young people say, "When I grow up, I want to be a deacon."'
"Well, Deacon Ditewig, I hope my book Where Do Deacons Come From? will help make that a reality.
"For many kids today, the vocation of deacon is being brought home–literally–as fathers, grandfathers, uncles, and other adult males they know are answering the call for this special role of service in the Church. This book sets out to clarify what a deacon is–and isn't–through kid-friendly text and charming illustrations."
Adults will also appreciate this book.
"As with all my books for children, Where Do Deacons Come From? is written keeping in mind the parents or teachers that may be sharing the book with young people. I, myself, learned new things about the diaconate, as I did with each book in this vocations series."