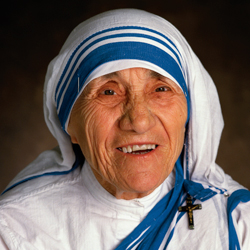 Check out this article from Catholic News Agency entitled, "Encounter with Blessed Mother Teresa transforms woman's life."
Susan Conroy is a lay woman whose life was forever changed as a result of time spent with Mother Teresa in Calcutta in the 1980s.
More recently, Susan has worked with the Maine Children's Cancer program, helping dying children. She has helped out  in soup kitchens, homeless shelters and with AIDS patients in the south Bronx. She taught religion to poor children.
Eventually, Susan wrote a book about her time with Mother Teresa and received her blessings on the project. One hundred percent of the proceeds from the book, Mother Teresa's Lessons of Love and Secrets of Sanctity, go to the Missionaries of Charity's work in Haiti and to EWTN, the Catholic television station that offers spiritual nourishment to Catholics, especially shut ins.
For the full story, click here.