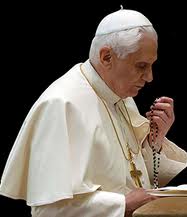 Let's once again unite our prayers this month with those of Pope Benedict XVI. Here are the Holy Father's intentions for November 2011, as published by the Apostleship of Prayer:
Peace among All Peoples. That all peoples may grow in harmony and peace through mutual understanding and respect.
Children and Youth. That children and young people may be messengers of the Gospel and that they may be respected and preserved from all violence and exploitation.
Further, as we enter a new liturgical year and head toward Christmas, the Holy Father  invites us to remain "watchful" and "alert" by entering prayerfully into this holy season, so that we may be ready to greet Jesus Christ, who is God with us.