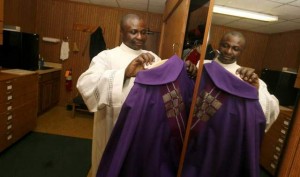 The Detroit Free Press published this article last week on the influx of foreign-born priests in the United States to help compensate for the relative shortage of American-born priests.
In 2011, about one-third of priests ordained in U.S. Catholic dioceses were foreign-born, up almost 50% from 1999, according to data Georgetown University compiled for the U.S. Conference of Catholic Bishops. The number of foreign-born seminarians has varied between 20% to 30% over the past decade.
The article says that of the 293 priests serving at metro Detroit parishes, more than 50 are foreign-born, from countries such as India, Vietnam, Mexico, the Philippines, Cameroon, Poland, and Ireland.