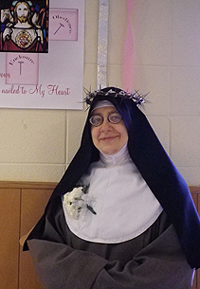 When a young woman knocks on the large wooden door of the Poor Clare Colettines in Rockford, Illinois to learn more about the sisters' way of life, she is sometimes put off by what she sees. She might be used to driving a nice car, carrying a Blackberry, and enjoying the pleasure of fine food and drink.
But what she sees are barefoot nuns walking quietly who then share a meal of beans and rice. She may have experienced a world of exciting nights out, of a seemingly endless possibility of relationships. But what she finds here is the solitude of a flickering candle in a plain chapel, and the joyful laughter of friends bound by lifelong vows.
Why, then, are women today attracted to the sisters' form of life? Maybe because they see the sisters living "according to the form of the Gospel," as inspired by their foundress, St. Clare–a motivation that has been sending them to their doors for eight hundred years.
Are you interested in learning more about Poor Clare life? If you are seriously considering this vocation, the sisters invite you to come and see if the voice of Christ is calling you to their life. A discernment visit from two to five days may be arranged on an individual basis by contacting Mother Dominica (pictured above), at the Corpus Christi Monastery in Rockford at 815-963-7369.
For a typical day in the life of the sisters see, "All Time Is at the Service of God." Or read about what Blessed John Paul II said about the difficulties of accepting Christ's invitation on the Poor Clares' youth page.