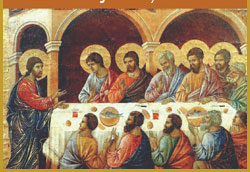 National Vocation Awareness Week begins today, as dioceses across the nation embrace this time to encourage young people to think of considering a vocation to the priesthood or religious life.
It is no accident that the week begins today, as the Church celebrates the Feast of the Baptism of the Lord. This feast marks the beginning of Jesus' public ministry.
National Vocation Awareness Week focuses on vocations to the priesthood, diaconate, and consecrated life in particular. During these days, families and the parish community are urged to nurture the faith of their children to prepare them to respond to whatever God's call is for them. Catholics are encouraged during this week to take time to pray for vocations to the priesthood and consecrated life; to reflect on our own vocation and strengthen their personal relationship with Christ; and to educate young people about the importance of silent prayer and taking the time to truly listen to God's voice in our hearts.