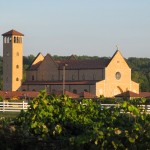 The Knights of the Holy Eucharist, founded in 1998 to serve the needs of the guests and nuns of Our Lady of the Angels Monastery and the Shrine of the Most Blessed Sacrament in Hanceville, AL, offer free private retreats to priests, seminarians, brothers and deacons.
The website, for those who wish to make a private retreat on the Poor Clare Nuns of Perpetual Adoration's beautiful grounds, provides information about  accommodations, travel arrangements, daily schedules, and reservations. They also have a Facebook page.
Nestled just a short walk from the Shrine, "The Barn," a modern building with a rustic look, has twelve fully furnished guest rooms with private baths and a beautiful private chapel for prayer and Mass. All meals are complimentary. Guests are free to roam the 400 acres of wooded countryside, attend or celebrate Mass and participate in community activities with plenty of time for personal prayer.
Each year, over two hundred priests and seminarians enjoy the beautiful accommodations provided by the Knights of the Holy Eucharist. Come and enjoy a restful personal retreat in the peaceful countryside of Northern Alabama!