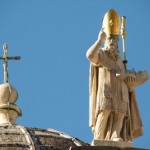 On this Feast of St. Blaise, remember to get your throats blessed!
While traveling through Yugoslavia in 1989, I was surprised, while in Dubrovnik, Croatia, to see statues of St. Blaise in every nook and cranny. He is revered in that beautiful city because, according to tradition, he appeared in a dream to some townspeople to warn them of an impending Moslem attack. St. Blaise was an Armenian Bishop who was martyred c. 316. According to tradition, he cured a boy who had a fishbone stuck in his throat, hence the blessing of the throats today.
The picture to the left depicts St. Blaise holding an image of the city of Dubrovnik.
May God, through the intercession of St. Blaise, preserve us from throat troubles and every other evil.