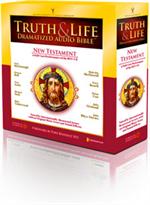 For those of you hoping to find something special to listen to during Lent, here it is! The Truth & Life New Testament (Revised Standard Version – Catholic Edition) on CD! It is a dramatization of the entire New Testament voiced by internationally-renowned actors including: Sean Astin, Michael York, Julia Ormond, Stacey Keach, Malcolm McDowell and many more.
To get a sampling of this beautiful work, a FREE app is available! It includes the entire written text of the RSV-CE New Testament along with the fully-dramatized two hour audio presentation of the Gospel of Mark. This free app is available in formats for a variety of mobile devices at www.truthandlifeapp.com.
I played the Gospel of Matthew at home, intending to listen to a few minutes of it and found myself still glued to my seat 90 minutes later. It was amazing how the Gospel leaped to life in a new and riveting way.
The entire set is available for purchase. It includes a forward by Pope Benedict XVI and an Imprimatur from the Vatican. It is the perfect Confirmation or RCIA gift or something wonderful to listen to during Holy Week.