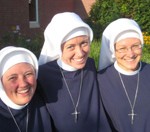 It's not often that you hear of a diocese asking women to prayerfully consider the call to religious life  so we must thank the Diocese of Des Moines for developing one called Bella Vita (which is Italian for "beautiful life"). And what a beautiful life!
The goal of Bella Vita is to introduce young women to Sisters joyfully living out God's call in their own lives. The next event is scheduled for April 18, at St. Theresa Parish in Des Moines. The evening starts with 30 minutes of adoration followed by dinner and fellowship with a School Sister of Christ the King (an IRL Affiliate Community), from Lincoln, NE, and two Handmaids of the Heart of Jesus from Minnesota.
What a wonderful idea!