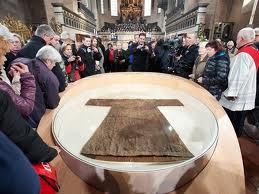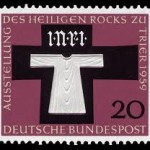 How beautiful our faith is and how visual are its signs in our cathedrals and in the relics that we treasure.
Here is one that I knew nothing about: the "Heiliger Rock," now on display in the Cathedral of Trier, Germany, from April 13 – May 13, 2012.
According to tradition, the Heiliger Rock is the robe worn by Jesus for which the Roman soldiers cast lots (Jn 19:24). Found by St. Helena c.327 it is rarely on display.
Pope Benedict XVI, in a message to the Bishop of Trier, said that the robe (or tunic) made with a single piece of cloth, that is, with no seams, is a sign of "the unity of the Church, founded as one indivisible community by the love of Christ." His love, the Holy Father says, "brings together that which has been divided." The jubilee pilgrimage (it was first viewed in 1512) in keeping with this theme, has the motto: "Lead to unity that which is divided."
"We ask the Lord," says the Holy Father, "to guide us on the shared path of faith, to make it live again for us….growing together as Christians in faith, prayer and witness."