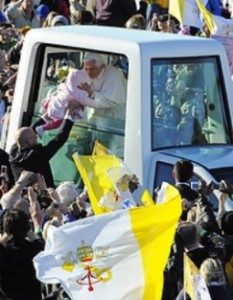 When Pope Benedict XVI visited Great Britain in 2010, the Press had their pens poised to write stories about the dismal failure of his trip. You didn't read any stores of the kind because guess what, it was a big success. The crowds were big (even in Protestant Scotland over 100,000 people lined the streets to wish him well) and the critics seemed to disappear in light of the outpouring of love for the Holy Father.
Now comes an article in The Times of London which indicates that the number of women entering religious orders has almost tripled since the Holy Father's visit.
Laura Adshead, the former girlfriend of the current Prime Minister David Cameron,  entered Regina Laudis Abbey in the USA. A congregation in York, after years of no activity, has six solid inquiries. In another order, three women are entering their novitiate in the fall. Still another has had no novices for twelve years but now has one with two more coming.
Father Christopher Jamison, National Office for Vocation, said, "In the last few years, the number of people applying to seminaries has been gradually increasing and, in more recent years, just in the last couple of years, ever since the Papal visit, the number of women approaching women's congregations has also been increasing."
Also, 1 in 5 new vocations are converts. The Lord calls. And women are responding.