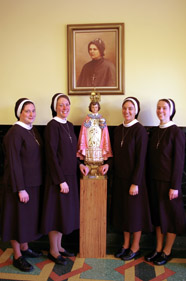 On August 15, 2012, Christina Skelley will be entering the Apostles of the Sacred Heart of Jesus in Hamden CT to begin her time of formation in religious life. Her Q&A is a beautiful testimony to the power of the Holy Spirit working in a young woman's life and a beautiful review of religious life in general.  Wise spiritual directors often say that when you find the right Order, you will feel at home and KNOW. Christina felt right at home with the Apostles and wrote, "I feel called to the Apostles because I really have a sense of being at home with them and fitting in with them. I feel free to be myself with them. They are deeply prayerful, down to earth, friendly, compassionate, and joyful."
The Apostles of the Sacred Heart of Jesus are an IRL Affiliate Community. For them, devotion to the Sacred Heart of Jesus is "the first and most beloved of devotions." It is at the center of their spiritual, ascetical and apostolic life. Their foundress Clelia Merloni urged the Apostle to be before she does, to adore before she witnesses, and to witness with the power of Jesus present within her who makes Himself light, love, conviction, and redemption.
May God grant the Apostles many holy vocations in this month dedicated to the Sacred Heart of Jesus.