We are used to sports figures thanking mothers, coaches, wives and sometimes even God after big wins. However, this appears to be somewhat unique in the current annals of sport – an Italian coach who makes a pilgrimage to a Camaldolese Monastery to thank a group of monks after unexpectedly reaching the Euro 2012 (soccer) quarter-finals in Poland.
The Italian team met with the monks whose historical origins are Italian but have a foundation outside Krakow, Poland, before the tournament.  Their coach, Cesare Prandelli, promised to make a pilgrimage to the monastery if the team got out of "Group C."  After their big win, the coach and his staff, at 3:00 AM in the morning, left their team HQ and walked 13 miles to the monastery which took 3 1/2 hours.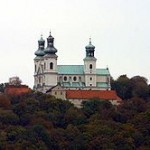 The Camaldolese were founded by  Saint Romuald (11th C.) and trace their heritage to the 6th century monastic traditions of Saint Benedict and the reforms of Saint Romuald.
The Holy Hermitage of Camaldoli commemorated the 1,000th anniversary of its foundation by St. Romuald on June 19, the saint's feast day. Cardinal Giuseppe Bertello, Pope Benedict's special envoy for the commemoration, was the principal celebrant at the hermitage's June 19th Mass.
Drawing upon the Desert Fathers, St. Romuald encouraged some monks to live in solitude as hermits. "Saint Romuald, the father of the Camaldolese monks, striving for eremetic life and discipline, wandered through Italy for many years, building monasteries and tirelessly promoting the evangelical life among monks," Pope Benedict recalled in his letter for the anniversary.