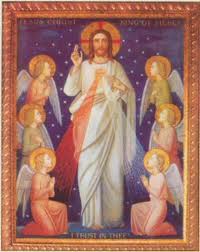 The IRL is consecrated to the Sacred Heart of Jesus and the Immaculate Heart of Mary. Our founder, Servant of God, Fr. John A. Hardon, SJ, wrote that it is a remarkable fact that "all of Christ's appearances to St. Margaret Mary were when she knelt before the Eucharist. He would literally replace the Sacrament on the altar when He showed His physical heart to this devoted mystic, as much to say, 'When you see the Eucharist, you see Me; and when you see Me, you behold My Sacred Heart.'"
Devotion to the Sacred Heart has waned in recent times eclipsed by devotion to Divine Mercy. However, Divine Mercy flows from the Sacred Heart of Jesus as evidenced by the picture commissioned by St. Faustina. In any event, June which is dedicated to the Sacred Heart of Jesus is a good time to pray a novena to the Sacred Heart for some special intention. Click here for the novena that Padre Pio prayed every day for those who requested for his prayers.
Dear Sacred Heart of Jesus, I place all my trust in Thee.