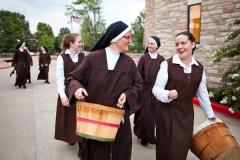 The National Catholic Reporter recently had an article about a group of "old-fashioned nuns," actually what I could call a timeless group of sisters carrying on the traditions of the ages. The LCWR was meeting nearby and the Carmelite Sisters of the Divine Heart of Jesus were carrying on with their work of caring for the aged and pre-schoolers.
These sisters belong to the Council of Major Superiors of Women Religious (CMSWR), a group that comprises about 10,000 sisters and according to the article, they are young and growing. About 15 years ago, these Carmelites were "stagnant," not attracting vocations. But then they emphasized their traditional life and vocations started coming in. Many young women are attracted to the wearing of the habit for as Sr. Mary Michael Reiss, 27, says: "I thought if I'm going to do this with my life, to give everything, I want people to know about it, darn it! I wanted the whole church."
The spirit of the Carmel DCJ comes from the faith experience of Mother Mary Teresa of St. Joseph. Meditating upon and contemplating the Sacred Heart of Jesus, wounded and bleeding, yet burning with love for mankind, a desire was born in her to love the Sacred Heart with her whole being and make Him loved in every heart He had created.
For more information about this IRL Affiliate Community, see their website.