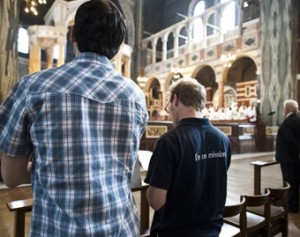 The Catholic Community of London is prepared for the influx of visitors and is offering athletes and visitors alike a place of repose and renewal during the Olympic Games. St. Francis of Assisi Parish in East London has adoration from 9:00am to 6:00 pm while 2 other parishes pick up the remaining hours. The parish will also offer evening prayer and healing services. Says Franciscan Father Francis Conway, "We're flying the flag for Christ if you like." One of their early visitors was an Archbishop from  Puerto Rico who celebrated mass for the Puerto Rican Olympic team.
Some of the star athletes are not keeping their faith under a bushel basket, according to  Zenit. Missy Franklin, a swimmer who won an unexpected gold medal in the 100m backstroke, attends Regis Jesuit High School in Aurora, Colorado. "Every day over the last three years, my faith has grown. One of my favorite times is going to our beautiful school chapel and spending time with God. This year, I attended Kairos with my Regis Jesuit sisters and it changed my life forever. I now really work on keeping my faith strong," she said.
Jordyn Wieber, who kept me up late last night watching the US gymnastics team win a team gold medal, says her "parents have always made going to church as a family important. Sometimes we have to split up due to our schedules, but most of the time we are able to get to Mass together. It's a very special family time and it means a lot to me."
Finally, Lopez Lomong, a member of the US track team, was abducted at age 6 while attending a Mass in the Sudan and sent to  a rebel camp. He escaped and ten years after his abduction, Catholic Charities arranged for him to begin a new life in America. He says,  "God blessed me and gave me a lot of strength to be faithful and more determined with my life to overcome obstacles." He was the flag bearer for the US during the 2008 Olympiad. He will be running in the 5000m men's race.
May all the athletes perform at their best and may their love for God shine for all to see.