On July 29, 2012, two 105 tear-old monks died on the same day, separated by an ocean, together part of the "two lungs" that are the Orthodox and Roman Catholic Churches.  As Pope John Paul II said: "… the Church must learn anew to breathe with her two lungs, East and West."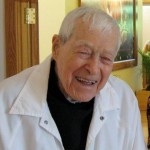 For Fr. Daniel Lenihan, his death came one one day after his 105th birthday and in his 66th year as a Trappist at New Melleray Abbey in Iowa. When another monk turned 80, he said, "He thinks HE'S old!" His duties over the years included construction work, laying concrete block, purchaser, guest master, spiritual director and Mass Secretary. A priest in Egypt wrote, "I have been receiving Mass intentions from Fr. Daniel for over 18 years, since the first month of my ordination. No month has ever been skipped. He always adds a note of greeting and encouragement in my missionary service." Father's advice to all who knew him was "Stay in love."
I went on retreat once to New Melleray and it was a wonderful experience, especially joining in the community prayers.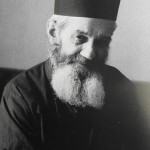 On the other side of the ocean, Fr. John Hilandari, an Mount Athos monk in Greece, died the same day at age 105. If I am reading the obituary correctly, it says he became a monk after his wife died when he was over 70 years old! (A priest I know who was ordained in his 70's said – It's never too late to live.) Father was a Serbian native who was a gardener for the monastery. During a terrible fire in 2004, Father saved many precious icons and in 2009, he gave up his typewriter for a laptop. (It's never too late to learn!) He went to sleep one day and went quietly to his eternal reward.
May God bless them both for their faithfulness and may they rest in His peace.