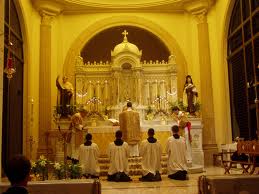 A new Carmelite Community has been established in the Diocese of Oakland, CA, with the arrival of 5 nuns from the Carmel in Valparaiso, NE. It is fortunate timing because another Carmelite Monastery recently closed after more than 60 years of prayer in the diocese.
Generous benefactors donated the land for the new convent. Temporary lodging will house the nuns and the additional ones who will join them later. A building able to house 21 nuns, the maximum stipulated for a Carmel by St. Teresa of Avila, is planned.
The Valparaiso Carmel also founded a Carmel in Elysburg, PA in 2009. They are obviously bursting with vocations. According to one site on the internet, they actually had 38 nuns in residence in Valparaiso in July! They are a traditional order of Carmelite Nuns with Mass offered in the Tridentine Rite.
For a list of societies and religious orders for men and women using the Extraordinary Form of the Roman Rite, click here.