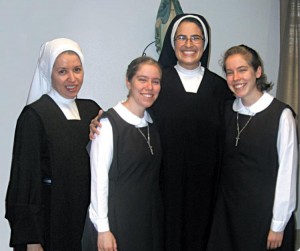 Four Carmelite Sisters of the Divine Heart of Jesus from Corpus Christi, TX, had reason to celebrate in July. First, there was the Religious Profession of novice Sister M. Clare of St. Michael (left), an entrance into Postulancy of twin sisters (!) Susan Redlinger and Laura Redlinger and the Renewal of Vows of Sister M. Teresa Margaret of the Blessed Sacrament. Twin sisters entering religious life together is really something!
The Carmelites in Corpus Christi were founded by Blessed Maria Teresa of St. Joseph (Anna Maria Tauscher(b. 1855)) who died in the Netherlands in 1938.  They serve God, the Church, and neighbor by means of prayer, atonement, and  active charity.  The charism of Carmel is very Marian.  Carmel is Mary's Order and they venerate her as their Mother and Queen.
To experience the joy of three other Carmelites from the same order pronounce their perpetual vows (July 2011) in Kirkwood, MO, see this beautiful video. Brought a lump to my throat.