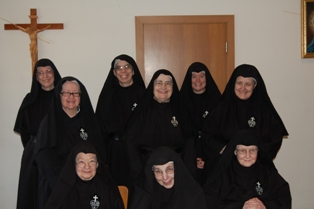 Mother Mary Salvador, CP, of the Passionsist Nuns of Ellisville, MO, thinks it is no accident that her bout with pneumonia and hospitalization occurred on the same day that President Obama announced his "compromise" for religious employers who objected to the HHS health Care mandate.  The Passionists, along with seven other contemplative communities in the Archdiocese of St. Louis, have joined together to pray for religious liberty.
There is value in suffering, she says, and it is important to take all of our suffering and turn it into prayer. The Passionist motto is:  "May the Passion of Christ be always in our hearts."Sister Veronica says, "As the mystical body of Christ, we can unite to Jesus on the Cross."  In the Gospel of John, Jesus prayed that "they may be one, even as We are one." Mother Mary Salvador says it is important to pray together. The impact of prayer is greater when "we all speak together. It's important that we do this unanimously."
The entire article is available from the St. Louis Review.  Let us join them as we pray with one voice to the Father:
Almighty God, Father of all nations,
For freedom you have set us free in Christ Jesus (Gal 5:1).
We praise and bless you for the gift of religious liberty,
the foundation of human rights, justice, and the common good.
Grant to our leaders the wisdom to protect and promote our liberties;
by your grace may we have the courage to defend them, for our­selves and for all those who live in this blessed land. We ask this through the intercession of Mary Immaculate, our patroness, and in the name of your Son, our Lord Jesus Christ,
in the unity of the Holy Spirit, with whom you live and reign,
one God, forever and ever.
Amen.