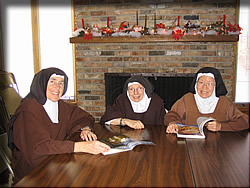 I once went out of my way to go to Mount Carmel, Utah, thinking that a Carmelite Monastery might be nearby, only to discover that it hosted a three way stop sign and a motel. That was about it. It was beautiful country though.
As it turns out, there is a Carmel in Utah that happens to be in Salt Lake City. This IRL Affiliate Community recently hosted a Fair which provides them with their main source of income for the year. The sisters also make altar breads, carmels, peanut brittle, fudge, toffee, note cards and Carmelite dolls. There are 11 nuns living at the Carmelite Monastery of the Immaculate Heart of Mary which was founded in 1952 as a foundation from the monastery in Alhambra, California. The purpose was to establish a Catholic presence in a state where Catholics were a distinct minority.
The reason for the Carmelite life, its prayer and austerity, its silence and enclosure, is to allow the Carmelite Sister to devote her entire energy to the worship, the contemplation, and love of God.  A Carmelite Sister is dedicated to pray for the needs of the Church, the Pope, Bishop, Priests, religious, laity, and especially for the diocese in which the Carmel is located. She prays for the return of lapsed Catholics to the spirit and practice of the Faith, for the conversion and salvation of all peoples, and recommends to God their needs in all circumstances of life.
God gives Himself wholly to the soul
which gives itself wholly to Him.
(St. Teresa of Jesus)