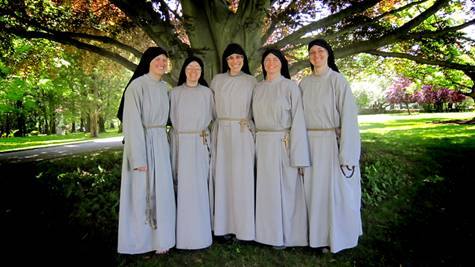 On June 2, 2012, 5 Franciscan Sisters of the Renewal pronounced final vows in the presence of Timothy Cardinal Dolan and their founder, Fr. Andrew Apostoli, CFR.
In poverty, they accept the loving care of the Father Who will provide for them for the rest of their lives. In chastity, they will possess Jesus as Spouse. In obedience, their will and the will of God become one.
Cardinal Dolan received the vows and said, "If you observe them, I promise you everlasting life."
Sr. Lucille Cutrone, Community Servant and founding member, was a New York City Public School teacher who had as her spiritual director the Servant of God, Fr. Walter Ciszek, SJ. From the wilderness of Siberia to the soup kitchens of East Harlem, nothing is beyond the reach of God and no meeting is impossible to orchestrate!
Congratulations to Sr. Francesca, Sr. Monica, Sr. Mary Pieta, Sr. Joseph, and Sr. Maria Teresa.