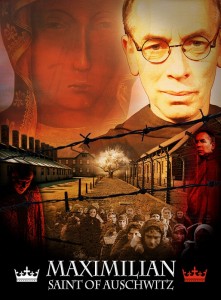 For those of you in the Chicagoland area, the IRL and Marytown (home to the National Shrine of St. Maximilian Kolbe) are sponsoring Maximilian: Saint of Auschwitz, a drama performed FREE by Leonardo Defilippis of St. Luke Productions on Sunday, September 23, 2012, @ 6:30 PM, at the University of St. Mary of the Lake Auditorium in Mundelein, Illinois.
There is no charge for the performance but you must register in advance by calling Marytown at (847)367-7800 ext 226 or visit the Marytown Gift Shop at 1600 West Park Avenue in Libertyville, IL, 60048.
The Conventual Franciscans of the St. Bonaventure Province, an IRL Affiliate, are the guardians of the shrine to St. Maximilian. Their beautiful chapel has adoration of the Blessed Sacrament, open to the public, 365 days a year, 24 hours a day. It is located on the property adjacent to the Mundelein Seminary where the drama will take place. Stop by and pay the Lord a visit!