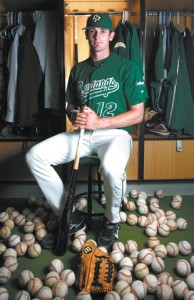 In the news over the past year has been the story of a star baseball player who turned in his glove for the life a Nobertine monk. A long story in Yahoo! Sports tells the story of Grant Desme who was a second round draft pick signed by the Oakland Athletics for $430,000 but said, "I had everything I wanted, and it wasn't enough." Wrist and shoulder injuries sidelined him for long lengths of time (Sounds like the story of St. Ignatius of Loyola!) and he got frustrated. He talked to priests and started to wonder what life was all about. When his injuries healed, he became one of the only minor leaguers in history to reach the 30-homer, 40-steal mark in the same season.
But the empty feeling persisted and he realized that he got more enjoyment out of talking about God in the dugout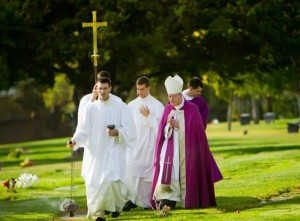 than in the home run he might have hit the inning before. As the article said, "The first phone call went to Billy Beane. It was less than a month before Grant Desme needed to report to spring training, and he was about to call one of the most powerful men in the game to which he dedicated his life – the person Brad Pitt would portray in the "Moneyball" movie – and tell him he was quitting to spend the next decade becoming a priest. "
His new name in religious life is Matthew because, as his Abbot said, Matthew the tax collector was rich "and I was a rich baseball player."
May God bless Frater Matthew and his community.
The Norbertines of St. Michael's were founded by a group of Norbertines from Hungary who escaped Communist persecution in 1950. They worked for almost a decade before saving up enough money to buy the 34-acre parcel of land in a then-uninhabited section of Orange County, California. One monk remains from that group, Father Gerlac Andrew Horvath, 91. The Norbertines have 52 priests and 24 seminarians, a Catholic high school and two albums of Gregorian chant.
May God bless Frater Matthew and his community.
The Norbertines are an IRL Affiliate Community. There is the men's community and two women's communities (active and contemplative).