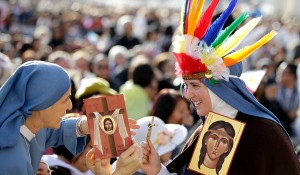 Yesterday in Rome, St. Kateri Tekakwitha was canonized a saint of the Catholic Church. The faith was brought to her by men who left their countries for certain martyrdom in the New World. At her birthplace of Ossernenon (New York), three Jesuit missionaries lost their lives as they strove to bring the Good News to the natives of the land. Kateri herself was baptized and instructed by a Jesuit missionary and then fled to Canada due to religious persecution.
Pope Benedict XVI said of her:
"May her example help us to live where we are, loving Jesus without denying who we are. St. Kateri, protectress of Canada and the first American Indian saint, we entrust you to the renewal of the faith in the first nations and in all of North America."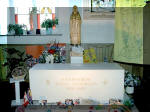 I did not realize that Kateri's grave site is revered and known. In an article in the National Catholic Register (10/21/12),  it says that she was placed in a coffin made by sympathetic Frenchman and buried on Holy Thursday, 1680. Her remains were later placed in a marble tomb at St. Francis Xavier Mission in the Mohawk Nation at Kahnawake, near Montreal, Quebec. (See photo right)
The National Shrine to St. Kateri is located near Fonda, New York, and has been under the guardianship of the Conventual Franciscans since 1938. The Founder, Fr. Thomas Grassman, OFM Conv., discovered the original Iroquois village in 1950, today the only fully excavated Iroquois Indian village in the country. Nearby is the spring whose water was used to baptize Kateri. The clear water drawn by pilgrims is credited yet today with many miraculous cures.
You can also visit the Shrine of Our Lady of Martyrs not far away in Auriesville, NY, commemorating the lives of the martyrs St. Isaac Jogues, St. Rene Goupil and St. John Lalande. It is also the birthplace of St. Kateri who was born there ten years after the martyrdom of St. Isaac Jogues.