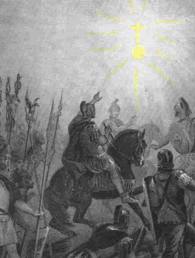 Our Holy Father, Pope Benedict XVI, has a way of succinctly expressing profound truths that really resonate with me. On October 15, a film entitled Bells of Europe (Campane d'Europa) was shown in a special screening for the Synod of Bishops. In it, Pope Benedict expresses the 3 reasons why he is hopeful about the Christian future of Europe:
The first reason for my hope consists in the fact that the desire for God, the search for God, is profoundly inscribed into each human soul and cannot disappear.
The second reason for my hope lies in the fact that the Gospel of Jesus Christ, faith in Jesus Christ, is quite simply true; and the truth never ages.
A third reason is evident in the fact that this sense of restlessness today exists among the young who are beginning their journey making new discoveries of the beauty of Christianity; not a cut-price or watered-down version, but Christianity in all its radicalism and profundity.
He goes on to say that Christianity in Europe has deep foundations. That is Christianity; it is true and the truth always has a future.