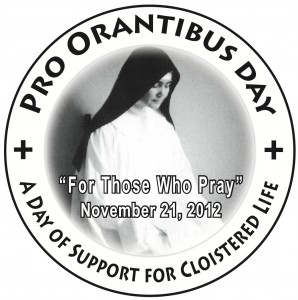 On November 21, 2012, the Church will celebrate Pro Orantibus Day ("For Those Who Pray"). Catholics around the world are encouraged to honor the cloistered men and women religious who have devoted their whole lives, hidden in the world, to God. Blessed John Paul II established this worldwide day in 1997.
The faithful can honor these faithful servants by attending Mass and offering up special prayers for cloistered religious, by making visits to monasteries and cloistered convents, or by sending cards or letters to contemplative communities.
The IRL has free resources that can be used to prepare and celebrate this day including:
Press Release
Liturgy Planning Guide
Homily Notes
Prayer Cards
Intercessions
A Novena for the Feast of the Presentation of Mary
Clip Art
Photos
Bulletin Announcements
Pope Benedict XVI referred to cloistered, contemplative life as "the heart" which provides blood to the rest of the Body of Christ.  When the heart weakens, we all weaken!
We pray for all the consecrated men and women in convents and cloisters, monasteries and hermitages, that their silent prayer and hidden sacrifices might supply the grace needed to transform our world.