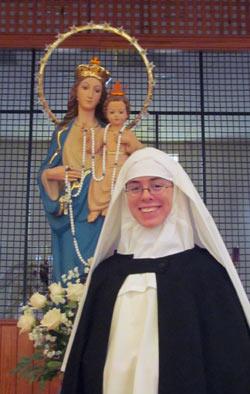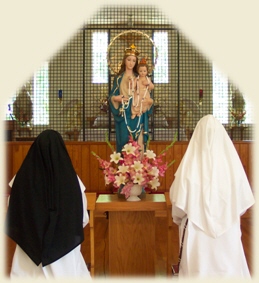 On November 21, the feast of the Presentation of Our Lady, the Dominican Nuns at the Dominican Monastery of St. Jude in Marbury, Alabama, celebrated the vestition (clothing in the habit) of their postulant, Sister Nicole. In a simple ceremony, Sister Nicole received the habit and her religious name: Sister Mary Thomas of the Holy Name of Jesus, O.P.
During the ceremony, Prioress Mother Mary Joseph, O.P., spoke of the symbolism of the Dominican habit. The white represents purity of heart with which the nuns love Christ above all else; the black represents penance that guards this purity. The scapular was given by Our Lady to the Order as a mark of her protection. Finally, the rosary is hung from the belt as the nuns' powerful weapon of prayer for the salvation of souls.
It is this dual mission of contemplative availability to God and apostolic zeal for souls which drew Sister Mary Thomas to the cloistered Dominican vocation. During her two years as a novice, she will strive to fulfill the words of the concluding prayer: "May you apply yourself assiduously to following our Holy Father St. Dominic so that you may be ready for the day of your espousals to Jesus Christ."
The Dominican Monastery of St. Jude is an IRL Affiliate community. Their primary mission is to pray for the salvation of souls and for the preaching mission of Dominican friars. Their daily life centers on the Liturgy, sung in English and in their traditional Dominican Latin chant, as well as Eucharistic Adoration and Perpetual Rosary, study and work. To learn more, visit the nuns' website at www.stjudemonastery.org.