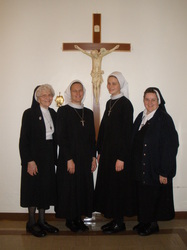 This year, the Sisters of St. Francis of the Immaculate Heart of Mary in Hankinson, North Dakota, are celebrating their 100th anniversary in America. Also known as the Dillingen Franciscans, the sisters arrived in Collegeville, Minnesota, from Germany in the summer of 1913 and served in the community there until 1958. In 1921, they opened a parochial school in North Dakota where the Motherhouse was built and still is today.
There are many Franciscan communities around the world , many of them new foundations. The charism of St. Francis of Assisi has remained new and vibrant for lo these many hundreds of years. The Sisters however are one of the very ancient communities for they can trace their beginnings back to 1241 in Germany (just 15 years after the death of St. Francis himself!). In the early 1300's they became affiliated with the Friars Minor of the Strasburg province and they received the Third Order Rule of St. Francis. To survive almost 800 years in the middle of Europe is incredible.
In 1803, the government confiscated all of their land and buildings. The sisters were allowed to remain in the convent until their deaths but no new postulants were allowed to enter the community. By 1828, there were only 5 sisters  left but it was enough for a new beginning. By1847, there were 53 sisters and by 1968 there were over 2300! The Lord uses even the smallest seed to grow a large, fruitful orchard. The sisters today serve in Germany, Brazil, India and the US. In North Dakota they care for the elderly and sick, teach young people, visit the imprisoned, support pro-life causes, run a retreat house, produce altar breads and do other evangelical activities.
Commenting on the German sisters who came to foreign soil in Minnesota, Sr. Ann Marie Friedrichs, OSF, said, "I am filled with an immense amount of joy and pride every time I think of the courage and vision it took for our German sisters to leave their homeland…not familiar with the American customs and totally unable to speak English. What trust in God they had to say 'yes'"!