One year ago, I posted a blog on the proposed renovation of the Carmelite chapel in the Infant of Prague Monastery in Traverse City, Michigan.
Here is what it looked like then.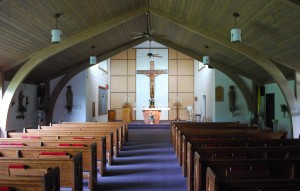 Here is what it looks like now.
The renovated chapel and new altar were dedicated by Bishop Bernard Hebda of the Diocese of Gaylord on Sunday, February 3, 2013
The design and renovation work were supervised by Notre Dame architecture professor Duncan G. Stroik.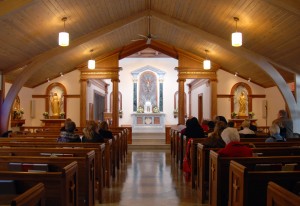 The Carmelite nuns decided after years of reflection to transform the modern-style chapel into a place of sacred beauty and transcendence. For the Carmelites, every experience of beauty is an experience of God – and their renovated chapel, though small, offered an opportunity for this beauty.
The nuns lead lives of simplicity, contemplation, and prayer, but wanted a beautiful sanctuary for the glory of God and to inspire the laity. The nuns' choir is positioned to the side of the sanctuary, separated from it by a new forged steel grille in the Spanish Carmelite tradition. The Choir is positioned to the side of the sanctuary, where the nuns attend Mass and pray. There is a new altar rail, marble floor, mahogany woodwork, and new shrines to St. John of the Cross, St. Teresa of Avila, Our Lady of Mount Carmel, St. Joseph, and the Infant of Prague. The nuns requested wood columns and a wooden altar rail to give the sanctuary a Spanish aesthetic – and to aid Michigan's economy by using local labor and materials.
A new tabernacle was also installed, accompanied by a matching set of candlesticks and crucifix, first in a new line of altar appointments designed by Mr. Stroik called Rinascimento,. The tabernacle is enthroned on the Carmelite's high altar, with views from the nave and through the cloister grille.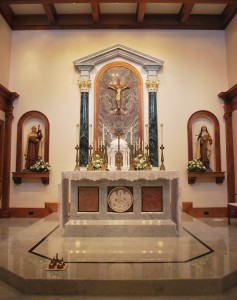 The inscription above the Ionic columns reads Adducam eos in montem sanctum meum et laetificabo eos in domo orationis meae (Isaiah 56) – "These I will bring to my holy mountain, and make them joyful in my house of prayer."
Mother Mary of Jesus, Prioress of the monastery, said, "We would need a cathedral to seat everyone who has helped us. The overwhelming support of the community has demonstrated that people want churches that look like churches." Amen!