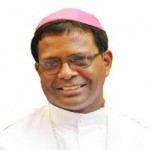 Archbishop John Barwa, SVD, a Divine Word Missionary in India, knows what persecution is like firsthand. In 2008, in his own Archdiocese of Cuttack-Bhubaneswar, Hindus went on rampage that killed 100 people, destroyed 18 churches and displaced some 5000 people. His own niece, a nun, was gang-raped.
While he was not the archbishop of the diocese at the time, he accompanied Cardinal Telesphore Toppo to the area during the first wave of persecutions, a experience he said was both painful and frightening. But Cardinal Toppo encouraged the people by saying, "From these ashes a new church will come about, so let us pray to God for the possibility for going through this suffering."
With the help of the SVD Missionary Center in Techny, Illinois (which has an incredibly beautiful chapel in the main building), most of the churches and homes have been rebuilt. Some of those who took part in the violence, says the Archbishop, have had a change of heart. "Those who took part in the persecution realized that it was fruitless. They asked for pardon and forgiveness."
The threats on his life are very real but God has been with him. "They can kill me only once. If that happens, then I will die for my people." Such dying to self has reaped astounding benefits. Last year, the Archbishop ordained 33 young men to the priesthood. In the town where the persecution began, he ordained 5 deacons and 3 priests.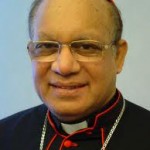 Who knows, maybe the next Pope will come from India. I have adopted (been assigned) a Cardinal to pray for before and during the conclave. His name is Oswald Gracias and he is from the Indian Archdiocese of Mumbai (Bombay) and also happens to be the president of the Catholic Bishops' Conference of India. If you "wish to contribute through the power of your prayers so that the Holy Spirit may guide, protect and enlighten our Cardinals when they determine the next successor of St. Peter," you can adopt one too!  To have a Cardinal assigned to you visit http://adoptacardinal.org/.